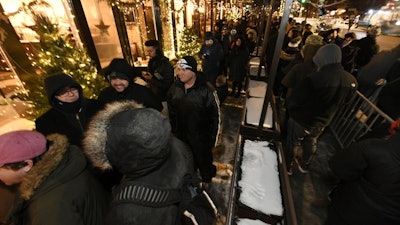 AP Photo/Paul Beaty
Two unsuccessful applicants to operate dispensaries in Illinois allege the state's troubled lottery system advanced only politically connected "insider" companies.
Southshore Restore and Heartland Greens filed a lawsuit in Chicago federal court against the state's Department of Financial and Professional Regulation and its Cannabis Control Section's deputy director, the Chicago Tribune reports. The companies asked the court to delay the lottery and argued that moving forward without providing an opportunity to challenge the results would be unconstitutional.
Illinois officials, in an effort to diversify the state's new recreational marijuana industry, planned to award 75 new licenses for dispensaries through a lottery system that favored those adversely impacted by past drug enforcement policies.
But after months of delays, the state reportedly advanced just 21 of 700 applicants to a final lottery.
The Tribune reports that those 21 applicants were majority owned by military veterans who met the "social equity" standard, which gave them perfect scores. State regulators did not provide information on applicants who were not selected.
The two companies in the lawsuit allege they, too, should have received perfect scores, and that the 21 successful applicants represented "politically-connected insider companies," including one linked to the firm that scored the applications.
That firm, KPMG, told the Tribune that the consultant was not involved in the scoring, which was "objective, following the state's criteria, with a blind scoring methodology." Gov. J.B. Pritzker's administration, meanwhile, said the lottery should move forward in accordance with current state law before making changes in future allocations.
"When this process is done, we will have the largest percentage ownership by people of color anywhere in the nation," Pritzker told the paper at a press conference last week.