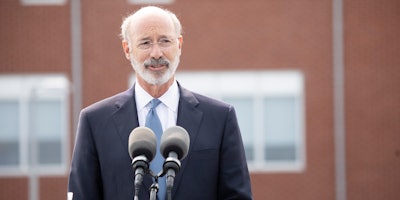 Office of Gov. Tom Wolf
Pennsylvania Gov. Tom Wolf again called on state lawmakers to legalize recreational marijuana Tuesday and suggested the bill could provide a jolt to a state economy reeling in the wake of the COVID-19 pandemic.
Wolf, who publicly backed legalization of marijuana last year, issued repeated calls in recent months for lawmakers to take the matter up this fall.
"To date, there has been no movement to advance legislation," Wolf said in a statement. "So I'm here today to ask again, and to focus on two particular benefits of legalization — potential economic growth and much-needed restorative justice."
He suggested that a legalization bill could mirror the economic impact of a 2018 bill authorizing the growing of industrial hemp. Eric Titus White, a Pennsylvania hemp farmer, joined the governor at a Northeast Pennsylvania community center, and said a legal cannabis crop is "capable of stimulating our economy, healing our soil, and bringing the focus back to natural medicine and natural farming."
Officials also noted that despite efforts to roll back the criminal records of those with minor marijuana-related arrests, another 20,000 people are still charged with those crimes in Pennsylvania, on average, each year.
"It's time we stop ruining people's futures over something that's already legal in several states and something that most Pennsylvanians don't even think should be illegal," Lt. Gov. John Fetterman added in the statement.
Pennsylvania is among a number of northeastern states that have struggled to enact legal cannabis marketplaces despite support from Democratic administrations. Leaders in Pennsylvania's Republican-led Legislature reportedly dismissed Wolf's overtures earlier this year.