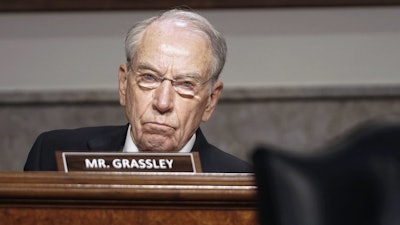 Greg Nash/Pool via AP
A bipartisan group of senators on Friday reintroduced legislation designed to enable medical research on marijuana and its compounds.
The authors of the Cannabidiol and Marijuana Research Expansion Act — Sens. Dianne Feinstein, D-Calif., Chuck Grassley, R-Iowa and Brian Schatz, D-Hawaii — said it would streamline the research process to allow marijuana-derived medications to be approved by the FDA for treating serious medical conditions.
Specifically, the bill would create an easier path for researchers to register with the federal government and increase the amount of marijuana available to scientists — including allowing accredited institutions to produce their own marijuana for research purposes.
It would also remove CBD with less than 0.3% THC from the federal controlled substances list, allow doctors to discuss marijuana-derived treatments with patients, and require federal health officials to report back to Congress on the potential effects of marijuana and the barriers to researching it.
"Our bill will remove excessive barriers that make it difficult for researchers to study the effectiveness and safety of marijuana, and hopefully, give patients more treatment options," Schatz said in a statement.
Identical legislation passed the Senate unanimously last session, but the measure did not advance in the House, which passed its own research bill.