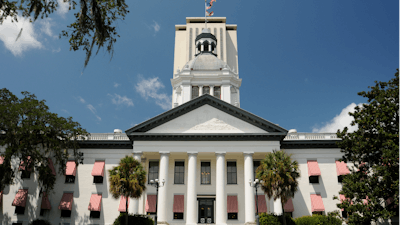 iStock
A Florida legislative panel on Tuesday approved a bill that would impose limits on the amount of THC in marijuana under the state's medical cannabis program.
The bill, the Miami Herald reports, would cap the amount of tetrahydrocannabinol at 10% by volume in smokable marijuana and 60% by volume in powders, concentrates, and other products aside from edibles.
Supporters of the legislation suggested that participants were abusing the state's medical cannabis program and argued that high-potency marijuana poses health risks. The measure would exempt terminally ill patients from the caps.
The bill's sponsor, state Rep. Spencer Roach, R-Fort Myers, told lawmakers that doctors and patients were using the program to "get rich and get high," and likened the situation to the opioid crisis — although the report noted that medical marijuana has killed zero Floridians, while opioids have killed tens of thousands. Roach also reportedly could not provide an example of any adverse reactions among the hundreds of thousands of medical marijuana patients in Florida.
Most smokable medical marijuana, the article noted, has THC levels in excess of 10%, and critics argued that the bill would interfere with doctors and their patients — and drive patients into the illegal marijuana market.
"Medical marijuana is already more expensive than street marijuana," Pensacola physician Michelle Beasley told the Herald. "What do you think is going to happen?"
The bill cleared the House's public health committee along party lines, but it would need approval in at least two more committees before it could go before the full chamber. No action has been taken on a Senate version of the bill.