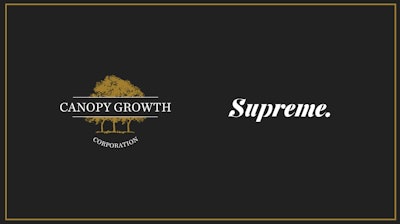 CNW Group/Canopy Growth Corp.
Canopy Growth on Thursday announced an agreement to acquire fellow Canadian cannabis company Supreme Cannabis in a deal worth nearly $350 million.
Canopy said the transaction — announced as worth approximately $435 million Canadian — would bolster its leading position in Canada's recreational market. Supreme includes the 7ACRES brand, the nation's top premium flower and top provider of PAX vapes, as well as the Blissco and Truverra brands.
The deal also includes Supreme's hybrid-greenhouse cultivation facility in Kincardine, Ontario, and offers the possibility of $30 million in cost savings within two years.
The companies, once combined, are expected to account for more than 23% of the premium flower segment in Ontario and more than 21% of that market in British Columbia. Supreme would also be better positioned as the U.S. market continues to expand, officials said.
"Supreme's deep commitment to superior genetics, top-tier cultivation and strict quality control, paired with Canopy's leading consumer insights, advanced R&D and innovation capabilities, is expected to create a powerful combination that aligns with our strategic focus to generate growth with premium quality products across key categories," Canopy CEO David Klein said in a statement.
The transaction is expected to close by the end of June. Under the agreement, Supreme shareholders will receive roughly 0.01 of a Canopy common share and $0.0001 in cash in exchange for each Supreme share. Canopy officials said the deal represents an approximately 66% premium on the closing prices of the respective companies as of April 7.
"This transaction is a testament to the value created by all the teams at Supreme and will be beneficial to all of our stakeholders," said Supreme President and CEO Beena Goldenberg.