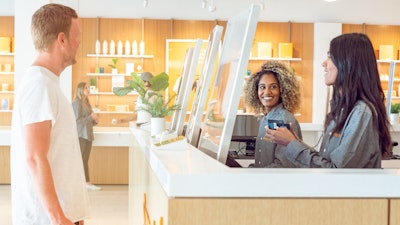 Business Wire
Multistate operator Cresco Labs released the results of a survey today showing 25% of Americans currently consume cannabis.* It's a significant increase since 2018 when just 16% of U.S. adults reported current consumption, representing a 56% increase in just two years.
What's more, 23% of current cannabis consumers say they tried cannabis for the first time over the past year, suggesting the COVID-19 pandemic, combined with expanded state legalization, has rapidly accelerated cannabis acceptance and adoption in America.
These findings are part of a national study conducted by global public opinion and data company YouGov in partnership with Sunnyside, the national retail dispensary brand of Cresco Labs. The study, conducted in March 2021, examined cannabis consumption, attitudes and purchase behaviors of nearly 5,000 Americans representative of the U.S. population.
Key findings from the study indicate that cannabis is attracting new consumers from a variety of demographics:
44% of cannabis-consuming parents with children under 18 tried it for the first time in the past year.
43% of Seniors (65+) who consume cannabis tried it for the first time in the past year.
Men and women are consuming cannabis equally as often during the year, month, week or day.
62% of women believe that the 420 holiday is no longer only for "stoners" or heavy cannabis consumers.
62% of parents who consume cannabis believe celebrating 420 has become more acceptable.
"We were curious to learn how current conditions have impacted consumer attitudes and cannabis consumption behaviors ahead of what we expect to be an unprecedented 420 celebration," said Cris Rivera, SVP of Customer Experience at Cresco Labs. "Whether it's the stressors of a global pandemic, quality of life enhancement, or increased accessibility due to expanded state legalization, the industry is ready to meet these new consumers to introduce them to its precisely dosed lab-tested products, safe and professional packaging, and welcoming retail locations."
New Mexico became the 18th state to enact legislation to regulate cannabis for adult use, on the heels of adult-use legalization announcements from New York, New Jersey and Virginia. A total of 37 states and the District of Columbia, Guam, Puerto Rico and the U.S. Virgin Islands have approved comprehensive, publicly available medical cannabis programs.
According to YouGov, people's cannabis preferences vary by region:
The Northeast is the most likely (64%) to consume cannabis for anxiety/stress relief.
People in the South and West Coast consume cannabis for social occasions more than the rest of the country.
The South is more likely (32%) to consume cannabis for intimacy than the rest of the country.
The Midwest (61%) is consuming edibles and beverages more than the rest of America.
74% of Midwestern consumers, and 64% of all cannabis consumers, believe if more people embraced cannabis, the world would be a better place.
As cannabis legalization continues to sweep the U.S, beliefs and behaviors surrounding 420, once considered a "stoner holiday," are shifting to become much more mainstream and inclusive.
How will America celebrate 420 this year?
57% of cannabis consumers view 420 as a national day of rest, relaxation and wellness.
50% of people 21-54 will try or will consider trying a new product on 420 this year.
60% of young cannabis consumers (21-34) plan to try out a new form of cannabis on 420.
57% of cannabis consuming parents with children under 18 plan to try a new form of cannabis on 420.
46% of men plan to try a new product on 420, while 25% of men plan to shop deals.
20% of women are planning a day of wellness.
53% of cannabis consumers plan to celebrate 420 with others this year, either in person or virtually.
"As one of America's leading retailers of medical and adult-use cannabis products, we are on a mission to normalize and professionalize the shopping experience so consumers feel comfortable and confident adding cannabis to their everyday wellness," said Rivera. "We believe 420 should be a mainstream and inclusive holiday, and this data set shows that people all over America are planning to embrace it in new ways this year."
Sunnyside operates 32 dispensaries across seven states including Illinois, Arizona, and Massachusetts.
*One in four Americans have tried some form of cannabis within the past twelve months.