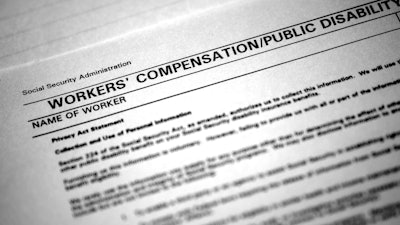 iStock
Recreational marijuana could be linked to lower numbers of workers' compensation claims, new research suggests.
Johanna Catherine Maclean, an economist at Temple University, recently spoke with the Philadelphia Inquirer about her work examining the effects of marijuana policy on the workforce.
Maclean told the paper that in a recent study of older adults — defined as ages 40 to 62 — states with newly legalized recreational marijuana showed a 20% decrease in the likelihood that an individual would report income from workers' compensation.
Although researchers are generally unable to gain insight into why people use a particular drug, and the workers' comp income was self-reported, Maclean said workers' compensation programs can serve as an important "proxy" of the ability to productively perform at the workplace.
Researchers speculate that some workers, particularly those at an age more likely to suffer from pain, sleep disorders or other chronic problems, are able to deal with them better in states where they have easy access to cannabis.
"We don't think that using marijuana is actually improving people's health," Maclean told the Inquirer. "We think it may allow some of these older folks with chronic conditions to better manage their symptoms."
Maclean also noted the distinction between states with recreational marijuana and those that permit marijuana for medical purposes. In the latter states, workers' chronic conditions might not qualify for medical marijuana programs. They would also need to get approval from a doctor and could faced a continued stigma for their marijuana use.
In states with medical marijuana programs alone, the probability of self-reporting workers' comp income dropped just 7%, Temple research found, although it dropped 13% in states that enacted employment protections for those patients — meaning they can't get fired for using prescription marijuana.