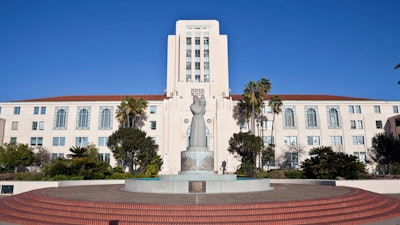 iStock
Some cannabis shops in San Diego could be forced to close their doors in coming years if the language of a 2014 city ordinance is not adjusted.
Under the seven-year-old law that authorized cannabis dispensaries in the city, lawmakers capped the maximum number of shops at four in each of San Diego's nine aldermanic districts. The San Diego Union-Tribune reports that as the city redraws those district lines following the latest U.S. census, more than four dispensaries could be inadvertently shifted into a single district.
San Diego City Attorney Mara Elliott told the paper that if that occurs under current policy, excess dispensaries could be forced to shut down as their existing five-year permits from the city expire. Her office suggested that the city would approve the first four renewals in a single district — and that any shops that come up for renewal after that would be essentially out of luck.
Because the issue appears to be an unintended consequence of the 2014 law, the local cannabis industry has called for existing dispensaries to be exempted from the limits or grandfathered into their new districts. In nearby Chula Vista, California, industry attorneys noted, dispensaries remained assigned to their original districts in order to avoid similar problems.
Three of San Diego's nine districts, the paper noted, are already at the four-dispensary limit, with two more expected to join them soon. The redistricting process is expected to be completed early next year.