iStock
AUSTIN, Texas -- Texas Original Compassionate Cultivation (TOCC), a medical cannabis provider in Texas, has announced the launch of its patient-centric awareness and advocacy series as it continues to fight the state's opioid epidemic and campaign for the expansion of Texas' medical cannabis program.
Advocates for Cannabis in Texas (ACT) aims to highlight the Texas patients who have found relief and comfort through the life-changing power of TOCC's medical cannabis.
The new advocacy program reinforces TOCC's commitment to the thousands of Texans suffering from debilitating medical conditions and opioid addiction who either lack access to medical cannabis entirely or are unnecessarily restricted by existing legislation.
TOCC's medicine has been proven to be a favorable substitute for highly addictive opioids, with one patient effectively managing his symptoms with medical cannabis while reducing his monthly opioid pill intake by approximately 67 percent.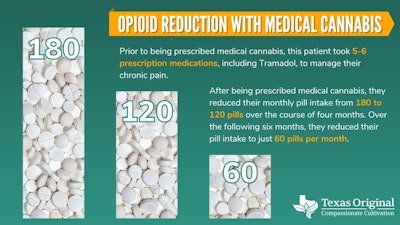 TOCC patient and Lubbock, Texas, resident Casey Lusk suffers from Charcot-Marie-Tooth disorder, a rare, degenerative nerve disease causing painful neuropathy and muscle weakness. Lusk's neurologist prescribed several opioids to mitigate symptoms, requiring him to take 180 pills each month, without achieving significant relief and contributing to the state's rise in opioid dependence.
Lubbock County had one of the highest opioid dispensing rates in Texas in 2019 at 95 prescriptions filled per 100 people, according to the CDC. After a physician prescribed TOCC's medical cannabis as a form of relief, Lusk decreased his opioid intake to roughly 60 pills per month over the course of 10 months.
"Medical cannabis enabled me to start moving away from opioids, restoring my faith in finding an effective option to manage my rare disease," Lusk said. "It offers physical relief—when opioids didn't—from painful neuropathy without dangerous side effects or risking addiction that I'm mindful of as a recovering alcoholic. TOCC's medical cannabis helped me cut my monthly pill intake by more than half. Cannabis is a medicine, not a drug, and I hope to stop taking opioids altogether if Texas' legislators further expand the state's medical cannabis program and raise the THC cap."
The Texas Legislature recently passed House Bill 1535 to expand the state's Compassionate Use Program. The bill's original iteration increased the THC cap and added chronic pain to the list of qualifying conditions where an opioid would otherwise be prescribed. The Texas Senate reduced the proposed THC cap from 5 percent to 1 percent by weight and removed chronic pain, but did not establish an opioid alternative program.
"Opioids are literally invading our state's communities, and we're leaving the best resource we have to eliminate them off the battlefield entirely," said Morris Denton, CEO of TOCC. "Casey's story—and those of countless others like him—combined with the latest research into cannabis as a safe and effective opioid alternative should be all the proof we need to fully authorize its use for Texans. Unfortunately, that's simply not the case yet. TOCC will continue to advocate for countless Texans by providing a platform for patients to speak their truth about how medical cannabis changed their lives for the better."
TOCC recently launched Texas' first THC-only tincture, a new lozenge and its first brand of gummy products for qualifying patients. Its products are available for statewide delivery at www.texasoriginal.com, at their dispensary in Austin, Texas, and through the company's convenient patient pick up locations in Dallas, Houston and San Antonio.