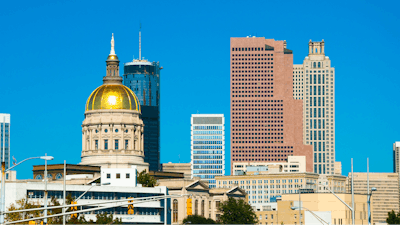 iStock
Georgia officials this month edged closer to allocating licenses to grow marijuana more than five years after the state first OK'd medical cannabis.
Fresh Take Georgia reports that the Georgia Access to Medical Cannabis Commission voted to approve the scores that were used to evaluate dozens of applicants for just a handful of licenses. But the panel did not officially award any licenses, which drew frustration from marijuana advocates and trade groups in the state.
"At this time, they know the winners, so what are we waiting on?" Veterans for Cannabis CEO Joshua Littrell asked the publication.
Georgia lawmakers authorized medical use of low-THC products in the state in 2015, but rules to allow production of medical-grade cannabis languished until last year. Nearly 70 companies applied for just six growing licenses.
The commission had reportedly promised to award licenses by June 30. The commission's chairman said he now expects licensees to be named at the panel's next meeting, but did not indicate when that would be.
Georgia Cannabis Trade Association co-founder Zane Bader questioned whether regulators have the resources to administer the program and respond to industry concerns. The report noted that state legislations have allocated just a fraction of the commission's proposed funding in recent state budgets.
"I think that there are going to have to be changes to the way the program is set up," Bader told Fresh Take.