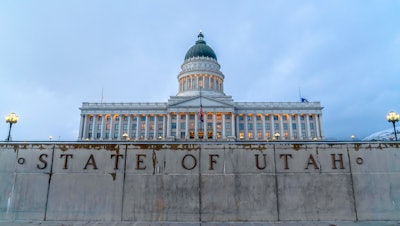 iStock
A rejected applicant for one of Utah's licenses to grow medical marijuana filed a lawsuit against the state Monday alleging that officials unfairly helped other applicants during the process.
JLPR LLC said in its complaint that the Utah Department of Agriculture and Food gave an unfair advantage to large, multi-state cannabis operators and "coached" preferred companies, the Salt Lake Tribune reports.
The state's cultivation licenses were originally limited to Utah-based companies until the agency lifted that requirement in July of 2019 — after the deadline to apply had come and gone. JLPR, however, alleged that several out-of-state companies had applied before the deadline, and suggested that Utah officials had tipped those companies off about the forthcoming rule change. Four of the state's eight licenses ultimately went to out-of-state companies.
The lawsuit also noted that a former agency official became a consultant for Ohio cannabis firm Standard Wellness — which later received a license — and that a state audit raised concerns about the evaluation process.
JLPR suggested that it should have been in a position to win a license and asked the court to either award it a growing license or give it priority when one becomes available. It is also seeking attorney fees and "lost profits," the Tribune reported.
Department officials told the paper they had not reviewed the complaint and could not comment.