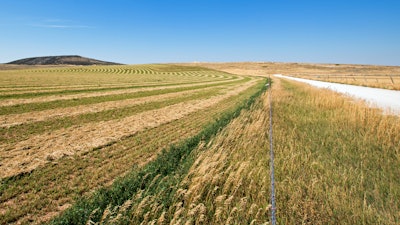 iStock
A group of Montana farmers has received the second-largest civil judgment in state history after an agreement to fund their cultivation of hemp fell apart.
Montana Free Press reports that a jury in Wolf Point, Montana, last month found that several American and Canadian executives were liable for "negligence, fraud and deceit," and ordered $65 million in damages for 25 hemp growers.
According to MTFP, those farmers signed contracts with a company known as USA Biofuels, which agreed to provide them with hemp seed and pay them hundreds of dollars per acre. The farmers reportedly hoped that the deal would protect them against wild swings in the price of hemp.
An attorney for the farmers, however, told the publication that USA Biofuels turned out to be, in effect, a shell company. The farmers only saw an initial, delayed payment — sent by a different company based in Canada — while USA Biofuels threatened legal action to prevent them from selling their hemp elsewhere.
Ultimately, most of the hemp grown in the state in 2018 — reportedly valued at up to $400 million by the company — was never used; much of it still remains in Montana farm fields today.
The farmers' attorney, Ross Johnson, told MTFP that the executives hoped to capitalize on the growing U.S. market for cannabidiol, or CBD, before taking the company public. But the 2018 federal farm bill legalized hemp cultivation in the U.S., and the market soon became oversaturated with hemp destined for CBD production.
An attorney for several of the executives argued in court filings that there was simply "no money to honor the commitments" after the collapse of the hemp market.
Johnson, however, contended that they "just tried to ride off into the sunset with the hope that nothing would happen to them" after the deal fell apart. He added that although he hopes the award will signal that those who "roll in and try to dupe a bunch of farmers" will face harsh consequences, the growers will be lucky to get one-tenth of the damages they're entitled to.