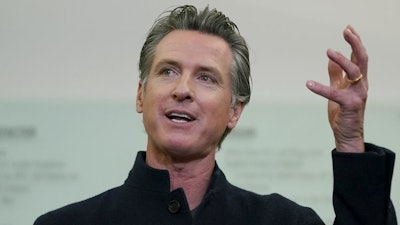 AP Photo/Jeff Chiu, File
California Gov. Gavin Newsom last week called for changing the state's cannabis taxes amid urgent warnings from the industry that it is at risk of collapse.
But the governor gave no indication of what those changes could look like.
A document outlining the Newsom administration's proposed state budget said that the governor "supports cannabis tax reform" and that he planned to work with the state Legislature to "make modifications … to help stabilize the market."
Asked to elaborate at a press conference, the Sacramento Bee reported that Newsom kept things vague, but stressed that he wanted to get more California communities to endorse the legal cannabis industry, which remains prohibited by many local governments.
Newsom told reporters that his goal is "to get these municipalities to wake up to the opportunities to get rid of the illegal market and the illicit market, and provide support and a regulatory framework for the legal market."
Major California cannabis companies wrote a letter to the Newsom administration last month that argued that the industry is "collapsing" amid high taxes, conflicting regulations, and competition from the lower-cost illegal market.
The administration projected that cannabis taxes would generate $787 million in revenue for the state during the 2022-2023 fiscal year; an estimated $595 million of that total would be directed to youth substance abuse treatment, cleaning up illicit cannabis operations, and other public safety programs, the Bee reported.