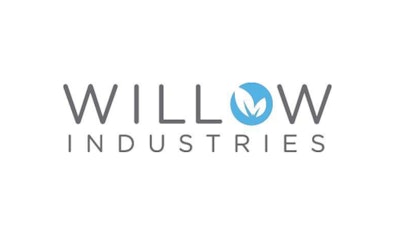 Inc. Magazine has again named Willow Industries on the publication's annual Inc. 5000 list, a prestigious ranking of the nation's fastest-growing private companies. Willow Industries provides cannabis kill step and post-harvest microbial decontamination technology.
The list represents a one-of-a-kind look at the most successful companies within the economy's most dynamic segment—its independent businesses. Facebook, Chobani, Under Armour, Microsoft, Patagonia and many other well-known names gained their first national exposure as honorees on the Inc. 5000.
Over the past five years, Willow has grown 2,820% in revenue and has expanded operations to three countries. Its approach in providing cultivators with technology, scientific insights and best practices to ensure consumer safety earned the company its ranking of 1,320 on the list.
"It's truly an honor to be recognized on the Inc. 5000 list for the second year in a row," said Jill Ellsworth, founder and CEO of Willow Industries. "As we continue to scale our business throughout the U.S. and global markets, our commitment to consumer safety remains paramount in helping cannabis businesses provide consistently clean and safe products. Being ranked on this list is a testament to the hard work and dedication of our world-class team of microbiologists, engineers and technicians, and I look forward to our future."
Ellsworth founded Willow, the first cannabis decontamination company in the country, in 2015 after noticing a lack of health and safety standards in the cannabis industry. Leveraging her extensive science and consumer safety background, Ellsworth launched Willow to bring a kill step to cannabis.
Today, Willow's patented, organic ozone-based technology, WillowPure, is currently available to all licensed cultivators in the U.S. and across the globe.