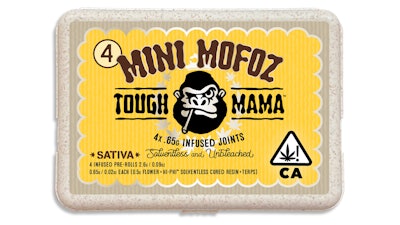 Cannabistry
Cannabistry today expanded its line of cleaner cannabis products with the launch of Tough Mama - Mini Mofoz Solventless Cured Resin Infused Joints, which are available from the brand's website and California retailers. The company has a growing portfolio of product innovations featuring proprietary Hi-PhiTM Solventless Extraction, which includes 'Mistifi' vape carts and pens, and 'Tough Mama' Blunts and 'Yolo Shotz', the only beverages to be infused with a solventless extract.
While a majority of the market is comprised of products infused with butane-extracted cannabis in the forms of distillate, live resin or diamonds, Cannabistry sees a growing awareness for cleaner, more sustainable cannabis products in the industry.
Similar to live rosin, Hi-Phi Solventless Cured Resin is extracted without the use of petrochemical solvents. By taking the petrochemicals out of the equation, Cannabistry is able to lower the environmental impact of producing their pre-rolls, vapes, and beverages whilst producing better-tasting products that are safer to ingest.
But don't mistake cleaner for weaker. Coming in at 30-40% THC, Mini Mofoz Joints were designed with the legacy consumer in mind. Each pack features four mini joints loaded with .5g of perfectly packed flower and infused directly down the middle with Hi-Phi Solventless Cured Resin.
In addition to the new line of infused joints, Tough Mama is also expanding its line of solventless cured resin-infused beverages, with a new Watermelon Lime YOLO Shotz, launching in conjunction with the new joints.