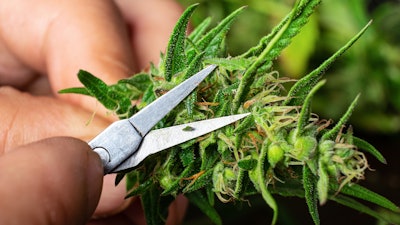 iStock
California's Department of Cannabis Control (DCC) announced last Thursday that it has adopted a consolidated regulatory package that streamlines and simplifies the cannabis regulations, eases burdens for licensees, and enhances consumer protections. These regulations, which reflect community and industry input, are now in effect. The DCC put together a comparison chart to help licensees understand the new requirements.
The rulemaking action consolidates, clarifies and makes consistent licensing and enforcement criteria for commercial cannabis businesses, in addition to other regulatory reforms.
The regulations maintain several provisions from the emergency regulations, as well as reflect critical changes that incorporate feedback from licensees and other stakeholders. Some of the key provisions in the adopted regulations that are now in effect are outlined below.
Enhanced consumer and youth protections
Restricts harmful ingredients and youth-friendly flavoring in inhalable products (Regulations Sections 15000, 17303.1)
Expands prohibitions on marketing, advertising and merchandise attractive to youth (Regulations Section 15040)
Supports expanded access to safe and tested products through delivery into regions of the state with limited access to legal cannabis (Regulations Section 15418)
Requires employees on a licensed premises or handling cannabis to be age 21 or older (Regulations Section 15000.6)
Ensures cannabinoid content labeling on flower reflects common, intoxicating forms of THC (Regulations Section 15700)
Ensures testing laboratories are independent and free of conflicts of interest (Regulations Section 15004.1)
Simplifies state licensing requirements
Removes requirement to provide extensive financial documentation (Regulations Section 15002)
Clarifies who must be disclosed as an owner of the cannabis business (Regulations Section 15003)
Removes requirement for businesses to continuously update lists of low-level investors (Regulations Section 15004)
Makes it easier for businesses to provide information required for CEQA review (Regulations Section 15010)
Simplifies process for changing license information (Regulations Section 15027)
Supports the success of licensed cannabis businesses through greater flexibility
Provides outdoor cultivators with flexibility to utilize traditional light deprivation without requiring a license change (Regulations Sections 15000, 16202)
Supports a more efficient distribution of products statewide (Regulations Section 15301) and with less environmental impact (Regulations Section 15306)
Provides distributors with the flexibility to quickly expand vehicle fleets in response to demand (Regulations Section 15311) while limiting the retrofitting required for secured storage areas (Regulations Section 15311)
Eliminates requirement for cultivators to weigh individual plants after harvest (Regulations Sections 15047.1-15052)
Permanently allows for curbside delivery practices which safely served customers during COVID-19 (Regulations Section 15402)
Allows consumption lounge operators to sell prepackaged food and beverages or allow carry-in of prepared food and beverages (Regulations Section 15407)
Expands opportunities for farmers and product manufacturers to participate in cannabis events and showcase products to consumers (Regulations Section 15603.1)
DCC has also put together technical guidance documents on inhalable products and tinctures and beverages.