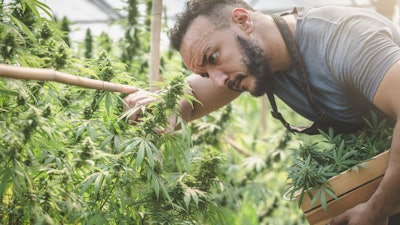 iStock
Curaleaf today announced a cannabis education partnership for its Grassroots brand with Ganjier, the Cannabis Sommelier Certification Program.
Similar to the sommelier's role in the wine industry, the ganjier is trained in the art, science and appreciation of cannabis craft, consumption, and connoisseurship, possessing a multidisciplinary knowledge and astute professionalism serving to raise the standard of excellence throughout the cannabis industry. Following the overwhelming response to Ganjier's third year of record enrollments, the 2023 edition of this cannabis sommelier certification will feature the first-ever partnership for cannabis education and training session by one of the largest, leading teams in the cannabis industry today.
Founded in Chicago, Illinois in 2014, Grassroots was originally created to perfect the art and science of cannabis cultivation – making the Curaleaf team members working on the brand ideal candidates for Ganjier training. Meticulous attention to detail and a commitment to cannabis cultivation, are core components of the Grassroots brand and Curaleaf company culture, and that tradition continues with today's announcement of the new partnership with Ganjier.
The Grassroots and Ganjier partnership is officially underway, with 100 Team Members across all Curaleaf departments, along with external partners, chosen due to their passion and dedication to cannabis education. An additional 79 participants, including Curaleaf's Executive Roundtable Participants and other Curaleaf Corporate Social Responsibility "Rooted in Good" partners, will receive access to online cannabis curriculum as part of Green Flower's new Social Equity in Cannabis program. The majority of participants have enrolled via online-only curriculum – built, led, and taught by the renowned Ganjier council. Every participant received a welcome kit, which included a strain journal, as well as a terpene palate training kit and jewelers' loupe. Regular group study sessions are underway to align the cohort on the self-paced online curriculum.
Expanding upon this first-of-its-kind training initiative in the commercial regulated cannabis industry, a select few Grassroots members will also get the opportunity to experience the complete Certified Ganjier Journey, starting with the online curriculum, alongside the rest of their participating Team Members, and then transitioning to expert-led, in-person instruction during the Grassroots exclusive training session conducted at the expansive 243-acre Ganjier wilderness campus in Humboldt, California.
Ultimately, the goal is to certify as many participants from that live training session as possible to support the program's ultimate objective: embracing and incorporating the highest standards in craft cannabis quality and production, while elevating, facilitating and perpetuating the in-house knowledge, assessment skills and acumen necessary to confidently produce the best cannabis available in any of the markets where Grassroots operates, both today and in the future.
Curaleaf's Grassroots products are now available in seven states including California, Illinois, Massachusetts, Maryland, Nevada, North Dakota and Pennsylvania.