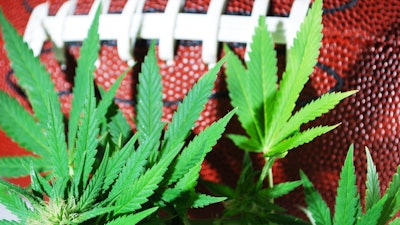 iStock
HARA Brands, a cannabis accessories brand, announced its participation in Rolling Stone Live, an event to kick off Super Bowl LVII weekend in Arizona, operating a cannabis lounge in partnership with Jardín Premium Cannabis Dispensary.
Hosted by Rolling Stone and sports-marketing agency Talent Resources Sports (TRS), and in partnership with ticket marketplace Vivid Seats, the immersive Super Bowl Weekend event will take place on February 10 at 9 p.m. at The Clayton House in downtown Scottsdale, 30 minutes from State Farm Stadium. The experience will host celebrities, athletes, VIPs and influencers, and feature Travis Scott as its headliner, with performances by Robin Thicke, DJ & MC Irie and DJ Whoo Kid.
Teaming up with Jardín Premium Cannabis Dispensary, HARA Brands will host an exclusive cannabis lounge where guests can sample an assortment of curated products, including Smokefiends' Blitz the Football and Blaze the Cactus, eco-friendly smoke filters, Hemper's Quick Hitters in a variety of flavors, and a collection of novelty glass bongs. The evening will also include activations from Vivid Seats, an exclusive collaborative merch capsule from Aviator Nation, and facilitate fundraising for the American Cancer Society. Diageo's portfolio of spirits, including Crown Royal, as well as BODYARMOR SportWater, will be available for guests, while Armand De Brignac ("Ace Of Spades") champagne will host a pop up with a VIP backstage area.
Additionally, HARA Brands has announced the launch of Smokefiends, a line of eco-friendly personal air filter products, which will be sampled at the Rolling Stone Live event. These portable smoking companions help eliminate smoke and odors with every exhale, allowing you to smoke discreetly and keep your space smelling fresh. Smokefiends' characters include Blaze the Cactus, Trixx the Ghost, Juice the Pineapple, and Blitz the Football.