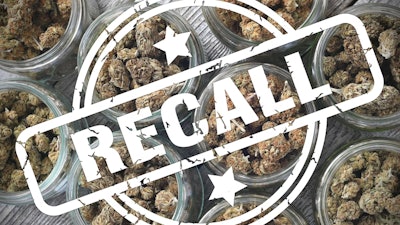 On February 9, 2023, South Dakota-based medical cannabis cultivator 605 Cannabis (doing business as Badlands) received a request from the South Dakota Medical Cannabis Program (SDMCP) to voluntarily recall certain products manufactured by the operator.
The following day, the SDMCP formally announced the product recall because of allegations of potential risks to health and safety.
In a statement provided to Cannabis Equipment News, a company spokesperson said 605 Cannabis is conducting an internal investigation to address the SDMCP's allegations. "At this time, we have no reason to believe any products produced by 605 Cannabis pose any health risk," the spokesperson said.
According to the recall notice, the SDMCP alleges a failure by 605 Cannabis to test products, mislabeling, contamination, the lack of inventory tracking and the failure to have licenses for edible products.
"As one of the first licensed medical cannabis facilities in the state of South Dakota, 605 Cannabis has always sought to go above and beyond the testing requirements of the state to ensure safe and reliably-dosed products are made available to South Dakota licensed patients," the company spokesperson said. "We will continue to work closely with the SDMCP and the South Dakota Department of Health to ensure all testing requirements are satisfied, all packaging is properly labeled, and all products are tracked in accordance with the South Dakota Department of Health rules and all other applicable state laws. We look forward to resolving this matter swiftly."
Dispensaries have been instructed to contact all medical cannabis patients who may have purchased any of the products (listed here). If necessary, dispensaries can contact the SDMCP with specific patient information, and the department will send an individual notice.
Patients who have purchased the recalled products should destroy it or return it to the dispensary where it was purchased.