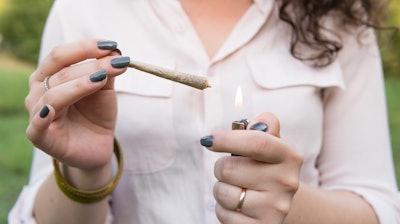 iStock
MedMen Enterprises today released the results of a new national survey examining the cannabis consumption habits of American women.
The survey, conducted online by The Harris Poll on behalf of MedMen, found that more than one-third (37%) of American women aged 21+ consume cannabis, and more than one in four (28%) say they use cannabis once a month or more often.
A closer look at the survey findings reveals that women seek out cannabis primarily for therapeutic, rather than recreational, reasons — and that the majority of female cannabis consumers aren't forthcoming about their cannabis use with their parents, children or coworkers.
Key Findings:
More than 9 in 10 women who use cannabis (91%) purchase it legally at a dispensary.
1 in 3 women who use cannabis (32%) spend more than $100 at the dispensary in a typical month; and (35%) of purchasers prefer to shop with a female budtender.
Edibles are womens' preferred method for consuming cannabis (57%), followed by flower/pre-rolls (43%), and vapes (39%).
The top three reasons women use cannabis are to relieve anxiety (60%), to help them sleep (58%), and to relieve pain (53%).
Younger women (aged 21-44) are more than twice as likely to consume cannabis (57%) as their older (aged 45+) counterparts (22%).
2 in 3 women who use cannabis (65%) say there are people in their life that still do not know they use cannabis, including their parents (26%), children (22%), and coworkers (21%).
While 27% of female cannabis users cited no concerns regarding their cannabis use, 20% said their biggest concern is drug testing.
"March is a meaningful time to celebrate women and create awareness around issues that matter to them," said Karen Torres, Chief Product Officer at MedMen. "We know first-hand from our female-identifying employees and customers that women are increasingly turning to cannabis for their health and wellness needs. However, it's clear that stigmas persist and inhibit us from sharing our experiences freely."
The survey was conducted online from February 28 to March 2, 2023 among 1,020 women ages 21 and older, of whom 391 use cannabis.
Continued Torres, "Fortunately, this research confirms that cannabis use has become a popular form of self-care, particularly among women seeking holistic solutions to help manage pain and anxiety, or to simply unwind."