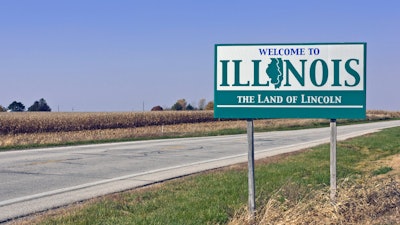 iStock
A recent memo from the nonpartisan Legislative Fiscal Bureau (LFB) in Wisconsin found that $36.1 million of Illinois cannabis tax revenues in fiscal year 2022 were attributable to residents north of the border.
According to the LFB, of the sales made in counties bordering Wisconsin, $121.2 million, or 50.6%, of these sales were to out-of-state residents. Last year, some 7.8% of Illinois' total cannabis sales revenue came from sales made to out-of-state residents in counties bordering Wisconsin.
"It should upset every Wisconsinite that our hard earned tax dollars are going across the border to Illinois," Senator Melissa Agard (D-Madison) said in a statement. "This is revenue that could be going toward Wisconsin's public schools, transportation infrastructure and public safety. Instead, Illinois is reaping the benefits of Republican obstructionism and their prohibitionist stance on marijuana legalization."
Senator Agard has made repeated efforts to legalize recreational- and medical-use cannabis in the Dairy State.
"Republicans' continued refusal to legalize marijuana is fiscally irresponsible. Wisconsinites paid more than $31 million – just in taxes – to Illinois in 2022," Agard said. "Wisconsin's loss of potential revenue is even larger if we include taxes paid to Michigan, as well as Minnesota in the near future. Wisconsin is losing out on significant tax dollars that could be used to make our communities stronger, safer and healthier."
Senator Agard says Wisconsin remains an "island of prohibition" as neighboring states generate significant revenue. According to a Marquette Law School Poll from November 2022, 64% of registered Wisconsin voters support cannabis legalization.
"The fundamental aspect of our job as legislators is to listen to the people we represent," Agard added. "The people of Wisconsin have been asking the legislature to take up common sense measures that will push our state forward. We know that legalizing cannabis for responsible adult use is wildly popular among Wisconsinites, including the majority of Republicans."
The LFB's analysis assumes that all sales to out-of-state residents in counties bordering Wisconsin were made to Wisconsin residents. For example, two of the dispensaries included in this estimate are located in Jo Daviess County, which borders both Iowa and Wisconsin. According to the LFB, a portion of sales at those dispensaries likely were made to Iowa residents.
In a tweet, Wisconsin Governor Tony Evers said, "Let's join red and blue states in legalizing and taxing marijuana, much like we already do with alcohol."
"I fully support Governor Evers' 2025-25 biennial budget proposal to fully legalize marijuana for responsible adult use, and if Republicans choose to remove it from the budget, I will once again introduce my bill to achieve this goal," Agard concluded. "It's high time we get this done for the betterment of our state and the people living here."