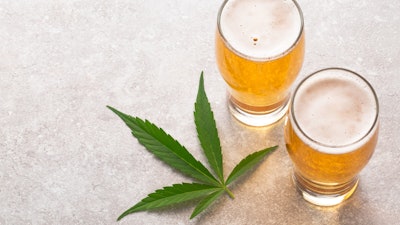 iStock
Wine & Spirits Wholesalers of America (WSWA)'s longest-serving Chairman, Tom Cole, called upon colleagues across the beverage alcohol industry to support WSWA's new policy position regarding the federal legalization and regulation of adult-use cannabis. In an address at the Association's annual premiere-industry event, Access LIVE, Cole used yesterday's opening remarks as a rally cry to the industry, urging colleagues to apply lessons learned in the safest, most diverse, and most competitive alcohol marketplace in the world to the emerging cannabis sector.
"The beverage alcohol industry's commitment to public health and safety is something that sets us apart from other consumer products," said Cole. "We believe that the successful state-based regulatory model which has served America's consumers and our industry so well, should be a part of the discussion… I call upon my industry colleagues to support our efforts and to lend your voice and experience to the conversations happening on Capitol Hill."
The conversation continued in a fireside chat with new WSWA President & CEO Francis Creighton where the topic turned to why wholesalers entered the ongoing policy debate and what Creighton believes the middle-tier can bring to the table.
"I think we can all agree that the federal government's inaction on cannabis isn't working for anyone – consumers and non-consumers," said Creighton. "People don't know, and often shouldn't trust, that what they are putting into their bodies isn't tainted product – because there is NO federal standard for testing. Consumers don't know what the potency is – there is NO standard for accuracy and NO regulator at the federal level to ensure accurate labeling for dosing."
"There are no federal health and safety standards. The illicit market is thriving and undercutting state-permit holders, and as reports have indicated, we have illicit product from China – that has made its way into the supply chain. And some of these operations are conducted illegally by organized crime. So how do you enforce the law if no one knows what the law should be or who is responsible for what. Its buyer beware and the government is failing consumers as well as those who abstain."
Last month WSWA sent a letter to members of Congress, where the association presented a comprehensive and robust federal regulatory framework along with warnings that addressing the issue in a "piecemeal manner" will result in de facto federal legalization that does nothing to address product safety, trade practices, or interstate sales and enforcement.