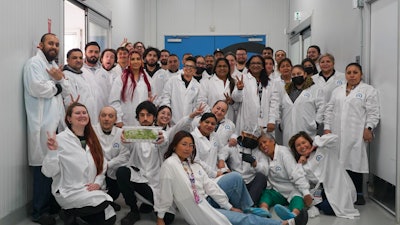 Conception Nurseries
Cannabis tissue culture specialist Conception Nurseries proudly announces it has made April 20 (4/20)—widely known as an international holiday for the celebration of cannabis and the legalization movement—a paid day off for all employees at its California and Oregon operations.
From its roots as a countercultural code used by the cannabis community in the 1970s, "420" has grown into a universally recognized cultural symbol for cannabis. Amongst the industry and its advocates, the April 20th holiday has been observed for decades. And while it's always been a day to celebrate and have fun, historically it's also been a day for activism and appreciation of what the cannabis movement as a whole represents and where it's headed.
Conception also serves licensed cultivators who have deep histories in the movement toward legalization. Amidst raids, arrests and theft—the pre-legalization breeding, cloning and growing of cannabis often meant the risking of life and freedom to help propel the industry forward. Important genetics were lost to the law or to the challenges of traditional cloning.
As a pioneer in tissue culture technologies for cannabis, Conception provides the industry an innovative new way to preserve genetics indefinitely. The company offers a competitive royalty structure to breeders and is deeply committed to supporting the continued work of these tastemakers in creating diverse and high performing genetics. And, by offering completely pest and pathogen free tissue culture clones, Conception has worked since its inception in 2018 to make meaningful improvements to the supply chain through these healthy, clean and vigorous plants.
On the heels of newly legalized adult-use and medical markets in Delaware, Maryland and Kentucky, this year's 4/20 holiday is poised to be the most widely celebrated yet. By instituting a company-wide day off, Conception honors the roots from which it came and the many decades of activism it took to achieve widespread cannabis legalization.
Conception has tissue culture labs and supporting offices in Sacramento, California and Hillsboro, Oregon.