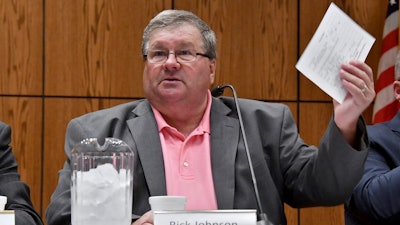 Dale G Young/Detroit News via AP, File
The former head of a Michigan medical marijuana licensing board has agreed to plead guilty to accepting $110,000 in bribes when he led the panel over a two-year period, authorities said Thursday.
Rick Johnson acknowledged in a signed court filing that he acted "corruptly" when he accepted cash and other benefits to help businesses get licenses.
Charges against Johnson and three other men were announced by U.S. Attorney Mark Totten at a press conference near the Capitol in Lansing.
Johnson, 70, was chairman of the marijuana board for two years until spring 2019. The Republican years earlier also was a powerful lawmaker, serving as House speaker from 2001 through 2004.
"Public corruption is a poison to any democracy. ... That poison is especially toxic here," Totten said. "The marijuana industry has been likened to a modern-day gold rush, a new frontier where participants can stake their claim and just maybe return big rewards."
The marijuana board reviewed and approved applications to grow and sell marijuana for medical purposes.
A message seeking comment from Johnson's attorney wasn't immediately returned.
Agreements with Johnson and others to plead guilty were filed simultaneously with charges in federal court in Grand Rapids. All are cooperating with investigators, which could help them at sentencing.
Johnson accepted $110,200 in cash and benefits from at least two companies while voting in favor of granting them marijuana licenses, according to the bribery charge.
Johnson "provided valuable non-public information about the anticipated rules and operation of the board and assistance with license application matters," the court filing states.
John Dalaly, who got a marijuana business license, has agreed to plead guilty to providing at least $68,200 in cash and other benefits to Johnson, including two private flights to Canada, according to court documents.
Two lobbyists, Brian Pierce and Vincent Brown, have agreed to plead guilty to conspiring to pass bribes to Johnson, filings show.
Brown voluntarily spoke to federal agents for hours in 2020 before he had a lawyer, defense attorney David Griem said.
"I only fight cases that I can win at trial or the government gives me no choice, the offer is so bad. We're not going to fight this," Griem told The Associated Press.
Gov. Gretchen Whitmer abolished the medical marijuana board in 2019, a few months after taking office, and put oversight of the industry inside a state agency.
Michigan voters legalized marijuana for medical purposes in 2008. A decade later, voters approved the recreational use of marijuana.