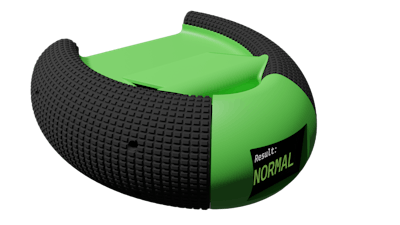 Oculogica
Neuro-diagnostic company Oculogica announced the launch of OcuPro, a roadside cannabis test with immediate results, along with pilots planned with several police departments across the U.S. Officers administer the 45-second long test and receive an immediate indication of recent cannabis use and impairment. The technology is based on studies of several hundred cannabis users which are in submission for publications.
Current tests for cannabis rely on a urine, saliva or blood sample from the subject, and provide a measure of tetrahydrocannabinol (THC), the active ingredient in cannabis. THC can remain in the body for months, long after the user is no longer impaired. OcuPro differentiates between recent use within 60-90 minutes vs. use over several hours ago.
The device can be used in manufacturing facilities and workplaces, but law enforcement has the most immediate need. Data from the Connecticut Transportation Safety Research Center shows a 10% increase in impaired driving crashes the year after cannabis was legalized, according to Marisa Auguste, Research Assistant with the organization. Maryland Officer Jayme Derbyshire says, "With cannabis legalization becoming more commonplace throughout the nation, it is important that communities take action to ensure that traffic safety isn't overlooked. With the potential for more impaired drivers, law enforcement needs to continue to improve roadside testing practices and roadside technology in order to keep roadways safe and to best determine the extent of driver impairment."
Pilot sites include police districts in Missouri. Several jurisdictions, such as Seattle, WA, are in discussion. Columbia, MO, Officer Ryan Hutton, says, "As cannabis legalization continues, the concern with driving while high continues to grow. Law enforcement officers are looking for help with detecting when consumers are impaired. Detecting these drivers are a top priority as it will help reduce serious injuries and deaths on our roadways."
The OcuPro device looks like futuristic binoculars. Notably, the color is bright green, in part so the device is distinct from other equipment police officers are carrying. The device will be available beyond the pilot sites in late 2023.
Oculogica, founded by a neurosurgeon, develops and manufactures products with eye-tracking-based algorithms. OcuPro builds on technology used in Oculogica's EyeBOX, the first FDA-cleared concussion diagnostic that does not require a pre-injury baseline.