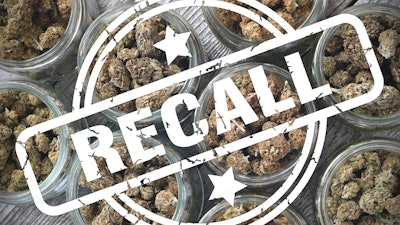 The Colorado Department of Revenue (DOR), in conjunction with the Colorado Department of Public Health and Environment (CDPHE), yesterday issued a health and safety advisory due to potentially unsafe levels of total yeast and mold and aspergillus on cannabis flower produced by Big Mountain Organics (dba Big Medicine Cannabissary).
Through an investigation, the DOR identified harvest batches produced by Big Mountain Organics that initially passed contaminant testing, but failed retesting.
The contaminated batches were sold to patients between March 10, 2023 and March 17, 2023 at Big Medicine Cannabissary located at 2909 North El Paso Street in Colorado Springs.
Consumers are instructed to destroy the affected products or return them to the dispensary.
If consumers experience adverse health effects, they should seek immediate medical attention and report the event to the Marijuana Enforcement Division.
All affected marijuana has a label affixed to its container that, at a minimum, indicates the cultivator's license number as well as the harvest batch number.
Consumers should check labels for the following information:
Medical Marijuana Cultivation Facility: 403-01617
Total Yeast and Mold Contaminated Medical Harvest Batches:
F2 Biscotti Pancakes 2.8.2023
F2 Blizzard 2.8.2023
Aspergillus Contaminated Medical Harvest Batches:
F2 Biscotti Pancakes 2.8.2023
F2 Blizzard 2.8.2023