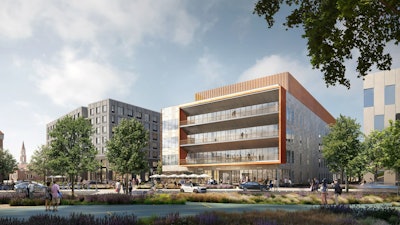 bioMérieux
bioMérieux announced the lease signing of a new, 32,000-square-foot state-of-the-art molecular innovation center at the Navy Yard in Philadelphia.
In addition to supporting legacy molecular solutions that have been supplied to diverse beverage and food customers worldwide, the new site will house bioMérieux's rapidly growing xPRO Program, as well as the company's Predictive Diagnostics Innovation Center.
With a goal of releasing multiple xPRO innovations into the market this year, the Predictive Diagnostics Innovation Center in Philadelphia will house the 50 person xPRO team, as the program continues to gain popularity among quality assurance executives in the food, beverage, dietary supplements and cannabis segments.
Since 2019, the xPRO Program has continuously developed innovative testing solutions that reduce food and beverage safety pain points across the entirety of the production process, from raw materials to final quality assurance releases.
Development of an average molecular assay is a laborious process that takes two to three years to release into the market. bioMérieux's xPRO team comes alongside industry heavyweights to solve their problems in as little as 90 days.
The xPRO Program is the catalyst that offers advanced molecular diagnostics to food quality and safety departments in the food industry. This is done through the rapid development of innovative, custom testing solutions to further ensure public health and brand protection.
The xPRO Program will continue its advancement under Ben Pascal. A Philadelphia native and entrepreneur with more than two decades of experience, Pascal co-founded the highly respected biotechnology company Invisible Sentinel, which was acquired by bioMérieux in 2019. Pascal guides the rapidly-scaling program initiatives overseeing research and forging new partnerships with food and beverage industry leaders.