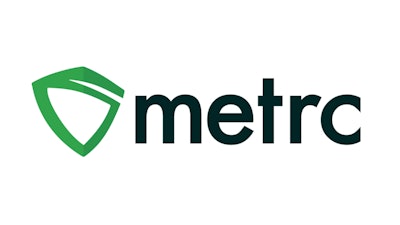 Metrc
Cannabis regulatory technology system provider Metrc today announced the renewal of its contract with the State of Ohio to support the regulation of its medical cannabis market.
Ohio became the 25th state to legalize medical cannabis when its governor signed House Bill 523 into law in September 2016. The Ohio Medical Marijuana Control Program (MMCP) allows people with certain medical conditions access to cannabis-based products with the consent of an Ohio-licensed physician certified by the State Medical Board. Metrc was contracted by the Ohio Department of Commerce in August 2017 to help state officials develop and administer the program's track-and-trace infrastructure.
Metrc's track-and-trace platform facilitates the data collection and regulatory insight for Ohio's medical cannabis market, enabling licensed operators to track all activities impacting the status of a plant or the creation of cannabis-based products, including origin, testing results, handling and chain-of-custody information, through the company's unique RFID tag model and software-as-a-service (SaaS) system.
Data tracking in Metrc helps operators optimize inventory control, accurately report sales data and improve cultivation management. The information is accessible to state regulators, providing transparency to ensure regulatory compliance, help combat the illicit market and safeguard the health and well-being of Ohio's patients.
According to Michael Johnson, CEO of Metrc, the renewal will help the government secure its supply chains and patients remain confident in product safety, and give licensees a hospitable operating environment.
Watch: Michael Johnson: We Are the Backbone of Legal Cannabis