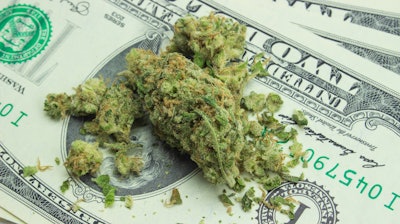 iStock
Today, Senate Majority Leader Chuck Schumer (D-NY) alongside Senators Jeff Merkley (D-OR), Steve Daines (R-MT), Kyrsten Sinema (I-AZ) and Cynthia Lummis (R-WY) released the following statement on the bipartisan Secure and Fair Enforcement Regulation (SAFER) Banking Act:
"We are pleased to introduce the Secure and Fair Enforcement Regulation (SAFER) Banking Act. This legislation will help make our communities and small businesses safer by giving legal cannabis businesses access to traditional financial institutions, including bank accounts and small business loans. It also prevents federal bank regulators from ordering a bank or credit union to close an account based on reputational risk. We look forward to the markup of this bill in the Senate Committee on Banking, Housing and Urban Affairs on September 27th," said the senators.
Senators Merkley and Daines released a previous version of this legislation earlier this year. Co-sponsors of the bill include Senators Chuck Schumer (D-NY), Jeff Merkley (D-OR), Steve Daines (R-MT), Kyrsten Sinema (I-AZ), Cynthia Lummis (R-WY), Kevin Cramer (R-ND), Cory Booker (D-NJ), Dan Sullivan (R-AK), and Bob Menendez (D-NJ).
According to a summary of the bill, the SAFER Banking Act would ensure that all businesses—including State-sanctioned cannabis businesses—have access to deposit accounts, insurance and other financial services. The legislation also creates common-sense standards for banks and credit unions to maintain customer relationships and to expand access to deposit accounts for underbanked groups.
"Over the last decade, forty-seven states, four U.S. territories, and the District of Columbia have legalized some form of medical or recreational cannabis—despite its classification as an illegal drug under the Controlled Substances Act (21 U.S.C. § 801 et seq.)," the summary reads. "Due to the conflict between Federal and State laws, many financial institutions remain reluctant to conduct business with legitimate, State-sanctioned entities. As a result, these businesses and their employees are blocked from accessing deposit accounts, securing lines of credit and other financial services—including commercial and residential mortgages, and accepting credit and debit cards while operating a retail business."
The SAFER Banking Act would resolve these issues by providing a safe harbor for banks, credit unions, other financial institutions, and payment processors that provide services to these State-sanctioned businesses, allowing them to operate in the financial mainstream. By shifting these businesses and their employees away from cash-reliant businesses and into the financial mainstream, this bill helps to promote public safety for the communities in which these businesses operate.