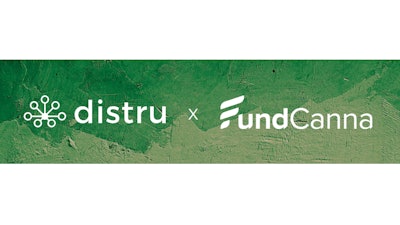 FundCanna
FundCanna, a provider of capital to small to medium-sized cannabis businesses, yesterday announced a partnership with seed-to-sale ERP platform Distru to become the company's preferred lending partner.
Cannabis is one of the most capital-intensive industries, and now Distru's clients will have better access to technology and financing. According to FundCanna, approvals will be available within 24 hours.
Distru's ERP platform streamlines the operations of cultivators, manufacturers and distributors. Adding in this partnership with FundCanna, Distru's platform will now offer their clients a source of capital to continue to grow their businesses.
FundCanna is a provider of cannabis financing across the cannabis supply chain and across the country, from cultivation to distribution to retail to ancillary cannabis companies. Distru's clients will be able to access information about FundCanna financing directly through their website and platform.
Distru's ERP platform helps manage inventory, orders and customer relations from a single platform, while staying compliant with Metrc. Currently, Distru's SaaS tool serves hundreds of licensees across several markets in the U.S, with more than $1B in transactions passing through its platform annually.