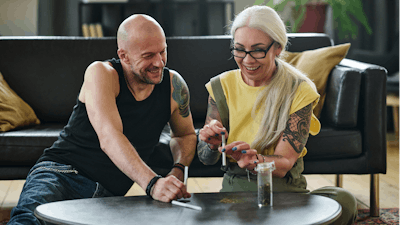 iStock
Premium Cultivars yesterday released the results of a new survey exploring the connections between cannabis consumption and sexual satisfaction. The comprehensive survey revealed that cannabis consumers overwhelmingly agree that cannabis helps to provide more enjoyable sexual experiences.
The survey, which began in August 2023, involved nearly 1,000 respondents, the majority of which were married men between the ages of 41 and 50 who consume cannabis at least once daily.
The company asked several questions about their cannabis consumption habits, preferences in partner consumption habits and their feelings on the connection between sex and cannabis.
Here are a few major survey takeaways:
61.6% of respondents either agreed or strongly agreed with the statement "sex is better while high."
64.5% of participants said that they feel cannabis improves their sexual experiences.
Most respondents reported no preference about their partner's cannabis consumption, though those with feelings one way or the other were more likely to prefer that their partner consumes cannabis, too.
89.9% said they would give their partner the last bit of cannabis if asked.
As cannabis becomes more accepted, Premium Cultivars believes that studies that explore the opinions and real-world preferences of cannabis consumers will become more common, providing individuals and companies alike with valuable information on cannabis and cannabis consumption.
Premium Cultivars is a provider of cannabis genetics with exclusive strains carefully selected from trusted breeders.