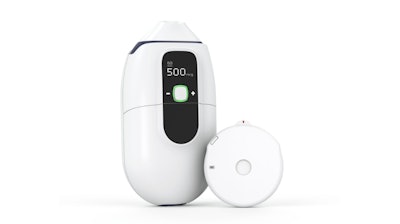 Syqe Medical
Syqe Medical, together with Australian sponsor and distribution partner Novachem, said its SyqeAir Inhaler has received approval from the Therapeutic Goods Administration (TGA) and has been included in the Australian Register of Therapeutic Goods (ARTG). This marks the first and only metered-dose cannabis inhaler to obtain ARTG approval in Australia.
SyqeAir is a medical device designed to administer low, metered, and consistent doses of medicinal cannabis by inhalation, aerosolized from dried milled flowers. It has undergone clinical validation through three clinical trials as well as real-world evidence publications, demonstrating its safety and effectiveness: patients can experience a fast reduction in the intensity of pain, improved sleep and quality of life, with minimal psychoactive adverse events compared to other administration routes of medicinal cannabis.
Designed for both home use and managed healthcare settings, SyqeAir is comprised of the Inhaler and a pre-loaded Cartridge containing 60 uniform doses of pharmaceutical-grade, standardized, full-spectrum raw cannabis flowers. The cannabis inside the Cartridges is cultivated under EU-GMP regulations by the Dutch company Bedrocan. From the moment the Cartridge is inserted into the Inhaler, it is ready for immediate use, eliminating the need for prior preparations or direct handling of the cannabis. This enables patients to discreetly incorporate the treatment into their daily routine.
Syqe has recently signed a first-of-its-kind strategic agreement with the Israeli Ministry of Defense to provide its Inhaler to all its veterans suffering from chronic pain and PTSD who need medicinal cannabis treatment.