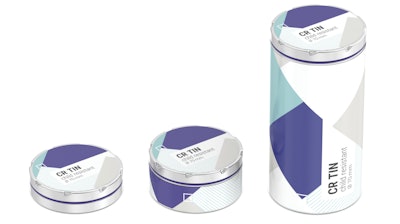 Hoffmann Neopac
Recyclable solution ensures product quality and regulatory compliance;
Tubes for cannabis creams, oils & liquids also available. The new lineup comes in response to packaging requirements in increasingly widespread legalization of marijuana for medicinal and recreational purposes in the United States and Canada. Completely recyclable, the tins are suitable for a variety of cannabis products, including edibles, and are designed to enhance quality image. The tins feature:
Packaging volumes ranging from 50-500 ml.

Protect flavor and maintain cannabis product and active ingredient integrity.

Certified child-safe screw closure.
For marijuana pain relief creams, the lineup of cannabis tins is complemented by Neopac's child-resistant tube portfolio. The Polyfoil tubes feature:
Label or direct print possibilities.

Volumes from 3-150ml.

The ability to house products in the form of creams, oils, serums for topical application, CBD oil drops for oral delivery or CBD infused e-liquids refills.
All tins and tubes are US 16 CFR 1700.1 certified, a distinction now required for high-dose cannabis packaging in the United States.
Both the tins and tubes offer brand differentiation via shape and material variations while adhering to legislation regarding uniform packaging for medical cannabis products; some markets, including Canada, have existing laws requiring cannabis product packaging uniformity, while other countries are likely to enact similar packaging limitations and restrictions.
For more information, visit www.hoffmann.ch/cannabis-packaging.