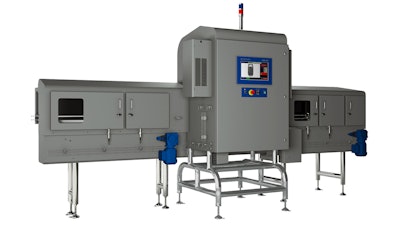 Mettler Toledo
Mettler Toldeo Safeline's X3750 glass X-ray inspection system detects a wide range of dense contaminants within products packaged in glass containers — including metal, mineral stone, calcified bone, high absorption plastic and rubber compounds — regardless of their shape, size or location within the bottles and jars.
This includes even glass fragments, the most difficult contaminants for most X-ray inspections to detect. By ensuring the highest levels of product safety and quality, the X3750 system ensures the wellbeing of consumers, minimizes the risk of product recalls and helps manufacturers protect brand integrity.
The X3750 X-ray system provides complete glass container inspection by eliminating blind spots in the base, sidewalls and neck of the container.
The system incorporates an angled X-ray beam that shoots through the container base, maximizing detection sensitivity. The system simultaneously inspects through the container sidewalls, inspecting the complete contents.
The X3750 system also provides accurate full-height fill level checks and is capable of optimizing production line efficiency by allowing containers to run while touching, without gaps, enabling high throughputs of up to 1,200 containers per minute. The position of the generator is also vertically adjustable to inspect a wide range of container heights.
Detected non-conforming or contaminated containers are rejected by a short-stroke rejector to a separate conveyor before they can proceed downstream and potentially reach the consumer market.
For more, visit https://www.mt.com/pi.