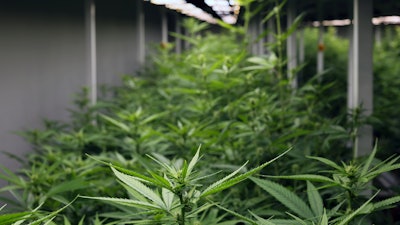 iStock
Want to know how breeders grow marijuana more efficiently? They incorporate the latest cannabis innovations, of course.
There are numerous ways to enhance the cultivation process—from fogging systems and lighting solutions to smart designs and automated platforms.
Keep reading to discover five products to help you grow the highest possible yield seeds and other marijuana variants.
Roll'N Grow by BioTherm Solutions
This cannabis innovation comes in the form of a mat. Roll'N Grow is used for root zone heating and can fit various growing surfaces, including benches, beds, or floors. It provides growth-enhancing warmth faster and easier than ever before.
Here are some of the benefits of using this heating product:
Lower fuel costs

More compact plants
Reduced risk of pathogens
Higher yields
Master rolls are 12 feet wide, but you can customize your order to suit your unique dimensions. This product only requires a pump and a hot water source. It's easy to install and suitable for regular or commercial cultivators.
Fogging System by Koolfog
This cannabis growing innovation produces tiny water particles that remove heat from the air as they evaporate and turn into vapor. The resulting fog lowers the temperature and increases the humidity to the appropriate level.
Here are some of the advantages of using this fogging system:
Keeps the temperature cool
Promotes better ventilation
Reduces dust particles and bacteria
Lower electricity costs
Koolfog manufactures all its fogging systems in the United States. Several industries use these products, including theme parks, equestrian centers, dairy farms, and the military. They can be customized for small and large growing operations.
E-Gro by Grodan
One of the most exciting cannabis growing innovations in recent years is e-Gro. This software application gives you access to in-depth data about your greenhouse setup. Make more knowledgeable decisions based on current insights with this information.
Here are some of the benefits of using e-Gro:
Delivers real-time data about the root zone, irrigation, temperature, and humidity levels
Helps optimize your cultivation strategy
Maximizes production and minimizes costs
Offers a multi-sensor system to detect all anomalies
Allows you to track the progress of individual and mother plants
Features custom alert options when something changes
Captures all necessary crop data for historical comparisons
E-Gro is easy to use and available for Android and Apple users.
Aquamat by Soleno Textile
This innovative cannabis product is specifically created for the cultivation of container crops. Aquamat is an irrigation conservation system that captures, stores, and efficiently releases water to your plants. Each one is custom-made for your unique greenhouse setup.
Here are some of the benefits of using this product:
Less wasted water
Promotes sustainable production
Optimized irrigation
Aquamat is best suited to large-scale growing operations, but serious breeders can also use this product at home. Unlike traditional irrigation systems that can lose up to 80% moisture, this eco-friendly product makes sure you use every drop.
Flat Roof Greenhouse by Cravo
This cannabis industry innovation combines outdoor and indoor growing with a retractable flat roof greenhouse. Choose between an uncoated or coated roof cover. The former lets rain fall on the crops through the cover. The latter has a grid of slits that only allows some moisture to enter.
Here are some of the perks of using this product:
Protects plants from heat, cold, hail, wind, and the impact of rain
Reduced energy costs
Allow year-round cultivation
Low capital investment with a fast return
This product is available in several designs and suits all kinds of climates. You can also protect your plants from insect attacks by installing a net under the roof for retraction periods.
Jennifer Gallagher, an experienced cannabis grower at SeedSupreme Seedbank. During a 7-year career in the marijuana growing business, she has gained a high competence in this field. As far as weed is concerned, she knows it all inside out. Jennifer is an expert in pot-growing, as well as cannabis types and their effects. She's also familiar with all legislation nuances.