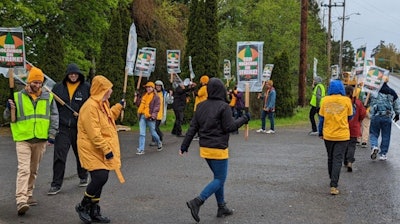 UFCW Local 555
Workers at CBN Holdings in Gresham, Oregon, walked off the job on Monday because of CBN's alleged attempt to block unionization efforts.
According to Oregon Public Broadcasting, employees who work at CBN's cannabis grow operation, from nursery to packaging, went on strike yesterday. The workers have been trying to organize with the United Food and Commercial Workers (UFCW) Local 555.
Former worker, Justin Brown, told OPB he was one of four employees terminated for trying to organize a union.
CBN Holdings denied any wrongdoing. CBN Chief Operating Officer Matt Hurd called allegations over terminating employees for union efforts "completely false."
According to a UFCW 555 post, the fired employees have little recourse. Because CBN is a cannabis operator, workers can't appeal the terminations to a government agency or even demand a fair union election process.
According to Miles Eshaia, communications coordinator at UFCW 555, the lack of options forces employees to take more drastic measures, like staging a walkout.
Workers initially reached out to the UFCW over safety concerns, including training on handling pesticides and a lack of fire drills.
The union called upon cannabis dispensaries to boycott the sale of CBN products in the area, which often carry the Cannabis Nation brand, until the company recognizes the workers' call for a union.
"Oregon cannabis employees have been left without a legal process allowing them to address unsafe working conditions, insufficient pay, and lack of access to healthcare," said Sandy Humphrey, UFCW 555 secretary-treasurer.
Oregon legalized recreational-use cannabis in July 2016. However, the lack of agency oversight leaves industry workers in a "legal limbo," according to the UFCW 555.
"Unionization of the cannabis industry not only creates a better environment for workers and their families, but further pushes its need for federal recognition and legalization as a high priority. The right to form a union is more important now than ever before," said Dan Clay, UFCW 555 president.
UFCW 555 represents more than 29,000 workers in Oregon, Southwestern Washington, Idaho and Wyoming. The union's membership consists of workers in retail, manufacturing, healthcare and other industries.