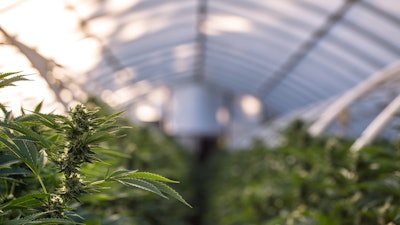 iStock
GrowSpan Greenhouse Structures recently constructed a new state-of the-art cannabis cultivation facility in Oklahoma. The 120' x 315' greenhouse will span nine gutter-connected bays and feature nearly 40,000 square feet of fully automated growing space.
"Our greenhouse design team worked tediously for months to develop the design for this high-tech greenhouse," said Rebecca Alicea, Greenhouse Sales Manager for GrowSpan. "It includes a custom control package, irrigation and a top-of-the-line TAVA moving table system, which will help our grower achieve maximum control and labor efficiency."
GrowSpan's greenhouses combine the energy savings of sun grown cannabis with the control of indoor facilities and can be designed around an operation's specific needs.
After working previously with GrowSpan's senior Greenhouse Designer, the facility's head grower enlisted GrowSpan to carry out the new project. GrowSpan's designers and their commitment to customer experience allow them to build lasting relationships, as well as offer continued assistance, even after a project's completion.
"GrowSpan is dedicated to helping our customers with all of their projects, past, present and future," said Alicea. "We find that our honest, thorough approach to quoting, devoted greenhouse designers and excellent manufacturing and construction teams ensure that our customers have a great experience from the first phone call, all the way through to the completion of a finished product."