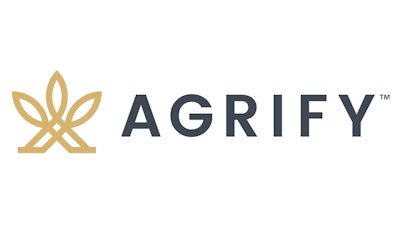 Agrify, a provider of cultivation and extraction solutions for the cannabis industry, today announced that Prairie State Cannabis in Illinois, LowKey in Massachusetts and MediFlora Cultivation in South Africa have selected the company's Rapid Deployment Packs (RDPs) to operate their respective cultivation businesses.
Agrify's RDP program was established earlier this year to make it easier for a broader range of customers to access the company's cultivation technology. Featuring Agrify's flagship Vertical Farming Units (VFUs) in a prepackaged, self-contained and quick-to-deploy format, RDPs offer an accelerated path to production, cash flow and profitability for customers.
By removing certain barriers and points of friction with the RDPs, Agrify is able to provide customers who have properly equipped facilities best-in-class cultivation capabilities in 60 to 90 days. Once installed, the modular nature of the RDPs allows for seamless expansion opportunities, enabling customers the flexibility to grow and scale.
As per the terms of the RDP agreements with Prairie State, LowKey and MediFlora, the deals have an expected base value of more than $7.5 million in cultivation-related hardware sales, and include future recurring SaaS and production success fees.
Agrify will initially provide each customer with an RDP configuration consisting of 56 VFUs. With this infrastructure, each customer will have the potential to produce an estimated 7.5 pounds of premium quality flowers per VFU, per grow cycle, with approximately 5.2 grow cycles expected to be possible each year.