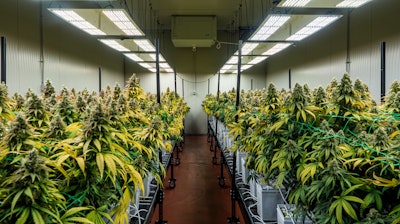 iStock
Leafly released its Cannabis Harvest Report, based on a synthesis of licensing reports with crop production totals, and sales and tax figures from the 15 states with operating cannabis markets.
In some states, cannabis is consistently one of the highest-value crops in the field, but the federal government - and even some state and local governments - do not track harvest amounts.
Key findings:
In 2022, adult-use cannabis farmers in the U.S. have legally grown approximately 2,834 metric tons of cannabis. For comparison, that amount is enough to fill 36 miles of dump trucks parked end to end.
Adult-use cannabis now supports more than 13,297 American farms, in 15 legal states with legal adult-use and medical cannabis markets
Cannabis prices are the highest in Alaska, Illinois, Maine, Massachusetts and Nevada
Marijuana is the No. 1 cash crop in Alaska, Massachusetts, and New Jersey, but regulators do not publish production totals in two of those states.
Recreational marijuana could be legal in half of the United States if the handful of states with cannabis on ballots this November pass them. And a recent Gallup poll found that 68 percent of Americans support adult-use cannabis legalization and 91 percent support medical cannabis. The plant, however, remains federally illegal and the cultivation of a single cannabis plant is a felony that can yield up to a five-year prison sentence and/or a fine of up to $250,000.