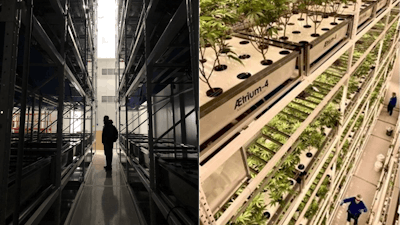 AEssenseGrows
SUMO Cannabis and AEssenseGrows yesterday announced the world's first four-layer aeroponic cannabis operation at the SUMO Cannabis facility in Trois-Rivieres, Quebec.
SUMO co-founders, Eric Morel, Jonathan Bosse and Francis Descoteaux, were looking for production that exceeded Health Canada requirements and offered precision craft quality. The team wanted to increase density while taking advantage of their facility's 34-foot ceilings and 30,000-square-foot layout.
The operators chose a four-layer racking system from AEssenseGrows and started production in two flower rooms in 2022. According to Bosse, the hard part has been throttling the crop to stay under Canada's 30% THC ceiling.
SUMO also uses a high density four-layer SmartFarm Nursery from AEssenseGrows for clone and veg operations. Cultivation competition is intense across Canada and SUMO plans to employ aeroponics to save on labor, water and nutrients.

"SUMO Cannabis set their expectations extremely high with this production facility. They will enjoy a competitive advantage with yields at 360 grams/ft2 per harvest," said Phil Gibson, VP, Marketing, AEssenseGrows, in a statement. "At their scale, the SUMO team will deliver beautiful flowers and be profitable in the process."
Precision aeroponics from AEssenseGrows use zero-soil and delivers continuous controlled automation to monitor and execute grow recipes for key variables like nutrients, irrigation, pH, temperature and lighting to maintain optimal conditions. The company's Guardian Grow Manager central management system is available on any mobile or desktop device.
AEssenseGrows will have one-, two- and four-layer AEtrium Systems in operation next week at MJBizCon Las Vegas from November 16 to 18 at Booth #527 in the lower south hall.