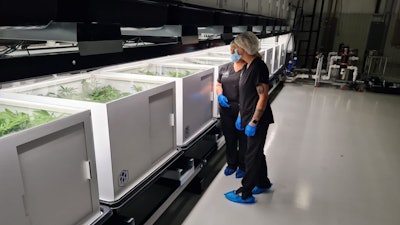 PharmCloud
PharmCloud today formally introduced its commercial state-of-the-art indoor cultivation facility which uses automated horticulture technologies and science to deliver consistently pure, customizable cannabis crops, available in small to large quantities for a variety of applications.
Located in Tulsa, Oklahoma with support from local investors, PharmCloud's premise includes propagation lab, vertical cultivation space, automated precision horticulture capabilities, sensor-based closed-loop management, and more. With a fundamental commitment to Environmental, Social, and Governance (ESG), the company is bringing clean, green and high tech job opportunities to the community, as "Cloud One," the first in a planned series of similar facilities in the U.S. and globally.
The company also launched the world's first "Grow as a Service" offering, which gives cannabis consumer brands, academic and pharmaceutical researchers, and supplement, food, and beverages companies in the nutraceutical industry access to their own bespoke crops, which are cultivated, grown, and harvested within the PharmCloud operation.
"We are applying industry 4.0 revolution technologies to the global cannabis industry using automated and autonomous cultivation techniques," said Dr. Yaron Penn, Co-Founder and Board member, PharmCloud. "Our proprietary technology includes full stack edge computing that is connected to dozens of sensors that control small or large batches of uniquely grown plants within a closed loop vertical farming operation. This enables consistently superior cannabis with chemical profiles which our AI platform monitors and controls 24/7."
PharmCloud said it is the first company in the world to promise and deliver consistent quality, aroma, and experience for consumers in every state, making it possible for brands to expand.
PharmCloud's first facility in the U.S. uses no pesticides. By leveraging automated monitoring using hundreds of sensors that track everything from moisture to nutrients and can predict when plants are ready for harvesting and drying, the company is able to offer a pure, chemical-free consumer grow service for legal recreational and medical cannabis users.