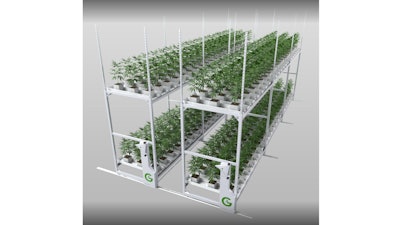 Grow Glide
Grow Glide today announced Eco Glide, an economical vertical farming system. Eco-Glide, based on Grow Glide's racking and table system, is a pared down, but fully functional racking and table system that allows cannabis growers and general horticultural cultivators to take advantage of the rapidly scaling vertical farming industry.
Eco Glide empowers growers to save on installation costs by choosing to construct Eco Glide themselves. This new innovative structure broadens the reach of indoor horticulture and makes indoor growing more attainable for growers across the world.
"It's no secret that the number one challenge indoor cultivation faces across the board is cost," says Grow Glide CEO Travis Schwartz, in a statement. "Eco Glide is the answer." Schwartz says the new line gives cultivators the ability to quickly start growing at scale.
Grow Glide President Darin Siples predicts 2023 as a year focused on cutting costs and streamlining operations. "With this new lower cost innovation, I know we'll help our emerging industry continue to grow and encourage investment in our space," Siples says.