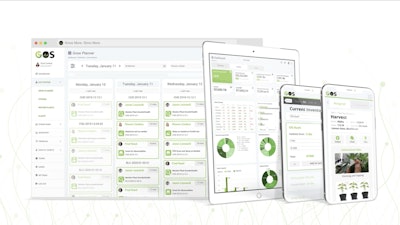 Grow Glide
Grow Glide, a provider of vertical, mobile cannabis cultivation solutions, announced the launch of Glide operating system, software designed to streamline operations, reduce costs and increase revenues in vertical farming operations.
GOS (Glide Operating System) was immediately adopted by two successful cannabis operations 48 Farms and Alternative Solutions. The platform tracks and measures cultivation employee tasks, strain success, profitability and unique KPIs. Additionally, Grow Glide plans on releasing a significant update to the software in Q2, a Facilities Management add-on. This upgrade will give investors, operators and employees vivid 3D visualizations of data and easy-to-digest recommendations to both mobile and desktop users.
"Decreasing costs and increasing revenue in cannabis is not always a straight line. Operators have had limited tools at their disposal to meaningfully track data and make crucial decisions that will become increasingly important in 2023 as the market corrects. GOS will give the best operators the opportunity for long term success based on data and insights that only this platform can provide," said Grow Glide CEO Travis Schwartz.