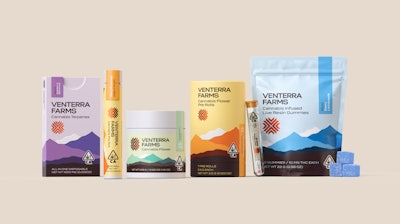 Farming First
California cannabis company Farming First today launched Venterra Farms, a sustainably grown cannabis brand. Founded by farmers who have been working the land off the Central Coast of California for five generations, Venterra Farms is dedicated to producing quality cannabis products while also being mindful of the environment.
The company's proprietary "hybrid farming" approach combines the best of indoor growing technology with the sustainability and cost efficiency of sun-grown outdoor cultivation. The result is an enhanced version of premium 'light-dep' cannabis.
The Venterra Farms product line includes a range of cannabis strains with high terpene expression and a full spectrum of cannabinoids, each selected and grown to provide a combination of aroma, taste and effects.
Initial product offerings include jarred flower, pre-rolls and vape pens in the following strains: Wedding Cake, Peanut Butter Breath, Lemon Cherry Gelato and Apples & Bananas. Additional features include:
Jarred flower: Hand-harvested, slow-cured sun-kissed nugs that feature a balance of taste, aroma and effects.
Pre-rolls: Single source, field-fresh flower carefully hand-harvested, slow-cured and packed into individual tubes. No trim or fillers.
Vape pens: Discrete and conveniently rechargeable, the pens are designed to preserve flavor. Cannabis derived terpenes means all ingredients come directly from cannabis for a 'true to plant' experience. The company extracts their own material to make the vape pen oils.
Gummies: Full spectrum gummies, crafted with a combination of Indica and Sativa hybrid strains containing a full spectrum of cannabinoids such as CBN and CBG in each gummy. Available in four fruit flavors at 5MG THC per gummy.
In addition to using sustainable farming practices, Venterra Farms is committed to giving back to the community and will donate a portion of its profits to organizations that support sustainable farming and environmental conservation.
The habitat plan for the company includes incorporating setbacks from native waterways to protect water quality, designated areas for preserving and restoring native grasses and plants and the protection of a rare black walnut tree.
Additionally, the use of solar power and upcycled water demonstrate the company's commitment to reducing their environmental impact and promoting conservation.
For more information, visit https://venterrafarms.com/.