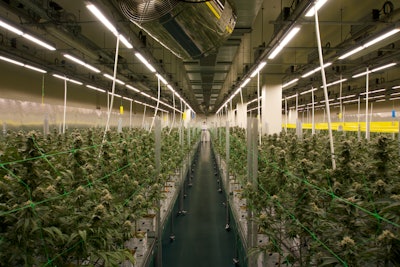 Fluence
Fluence, a provider of LED lighting solutions for commercial cannabis and food production, is supporting widespread expansion of pharmaceutical-grade medical cannabis cultivation operations in Portugal.
Portugal's cannabis laws are among the most progressive in the world, and its established licensing system is ahead of most other European countries. Portugal decriminalized personal cannabis use in 2001 and legalized medical use in 2018. Since then, 20 official licenses for medical cannabis production, processing, import, export or a combination of categories have been issued, and Fluence has been chosen to provide lighting for over half of them.
Key Leaves, a medical cannabis market leader in Portugal, is one of the 20 companies to have received a medical cannabis license from the Portuguese government. The company is focused on delivering premium quality medicinal cannabis products that adhere to the Good Agricultural and Collection Practice (GACP) and Good Distribution Practices (GDP) wholesale standards, along with all relevant Portuguese regulations.
As a fully indoor facility dedicated to research and development, Key Leaves depends on sole-source lighting for its success—completing more than 20 full cultivation cycles using Fluence LED technology. Fluence's LEDs have helped Key Leaves optimize production and cultivation light cycles, increase plant yield, uniformity and decrease energy consumption.
Fluence provides LED lighting solutions to 10 other licensed Portuguese medical cannabis producers—including Bathera, Curaleaf International and Clever Leaves, and pre-licensed AceCann—as well as several additional companies that are currently seeking licensing. Bathera, a German company, recently began producing its own medical cannabis and decided to construct its indoor cultivation and manufacturing facility near Lisbon. The site, currently in progress, houses 6,000 square meters of rooms dedicated to cultivation and 3,000 square meters of space for supporting areas, such as a GMP zone, six drying rooms and space for hand trimming and manual packaging.
Curaleaf International focuses on advancing the therapeutic value of cannabis used for medicinal purposes to develop products that meet the needs of patients across Europe. The company's commitment to accessibility, research and data-led product excellence brought it to Fluence when a lighting partner was needed for its Portuguese operations.