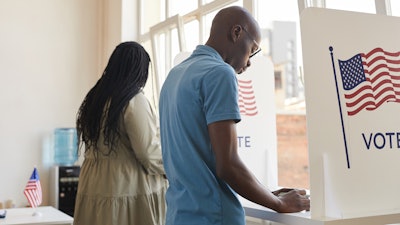 iStock
Voters in Oklahoma will decide Tuesday whether it should be legal to possess and grow recreational marijuana in the state, having already signed off on a now-popular medical marijuana program in 2018 by a wide margin.
Roughly 10% of the state's adult population has a medical license for marijuana. Unlike in most other states, there is no list of qualifying medical conditions in Oklahoma and patients can get a recommendation from a doctor online and get a medical-use license for the drug that's valid for two years.
The cannabis industry wants to expand the market to help offset falling prices brought on in part by a glut of medical dispensaries opened to support those users. The measure would allow anyone 21 and over to purchase and possess up to 1 ounce of marijuana, plus concentrates and marijuana-infused products. People could legally grow up to 12 marijuana plants. The measure would also open sales to out-of-state residents.
Opposition includes clergy, law enforcement and prosecutors, led by former Republican Gov. Frank Keating, an ex-FBI agent. Current Gov. Kevin Stitt and nearly all the Republicans in the Oklahoma Senate also have announced their opposition. They likely face an uphill fight in Tuesday's election: Oklahoma voters approved medical marijuana in 2018 by 14 percentage points.
Recreational sales would be subjected to a 15% excise tax on top of the standard state sales tax, and the revenue it generates would be used to help fund local municipalities, the court system, public schools, substance abuse treatment and the state's general revenue fund. The proposal also outlines a judicial process for people to seek expungement or dismissal of prior marijuana-related convictions.
Here's a look at what to expect on election night:
ELECTION DAY
Polls close at 8 p.m. ET.
HOW OKLAHOMA VOTES
Most Oklahoma voters cast ballots in person on election day. In the 2022 primary, 11% of voters cast ballots before election day. A state law passed in 2022 imposed a new ID requirement when applying for a mail ballot, and the deadline to request a mail ballot was Feb. 20.
DECISION NOTES
The marijuana measure needs a simple majority to pass.
The AP does not make projections and will only declare a winner when it's determined there is no scenario that would allow the trailing choice (Yes or No) to close the gap.
Should supporters declare victory or offer a concession before the AP calls a race, we will cover newsworthy developments in our reporting. In doing so, we will make clear that AP has not yet declared a winner and explain why.
In Oklahoma, the secretary of state can request a recount for a statewide ballot question if the margin between the top two choices is 0.5 percentage points or less.
The AP may call a race in which the margin between the top two choices is 0.5% or less, if we determine the lead is too large for a recount and legal challenge to change the outcome.
Q: WHAT DO TURNOUT AND ADVANCE VOTE LOOK LIKE?
A: As of Jan. 15, there were 2.2 million registered voters in Oklahoma. As of Friday, 25,610 voters had cast advance ballots. Mail-in ballots must arrive by election day to be counted.
Q: HOW LONG DOES COUNTING USUALLY TAKE?
A. Counties in Oklahoma count votes relatively fast. In the 2022 general election, AP first reported results at 8:23 p.m. ET. More than 90% of the votes were counted by 10:30 p.m. ET, and the election night tabulation ended at midnight, with 99.9% of votes counted.