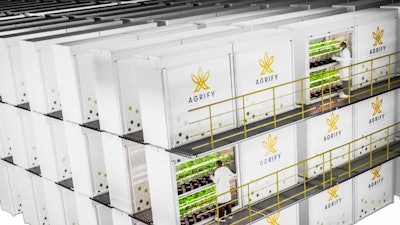 Agrify
Agrify, a provider of cultivation and extraction solutions for the cannabis industry, today announced that construction is complete at its cultivation build out at its customer Nevada Holistic Medicine. The facility is prepared for final inspections, with flower production expected to commence in April, which Agrify expects will mark the beginning of high-margin recurring SaaS and Production Success Fees from the use of its Vertical Farming Units at the facility.
Nevada Holistic Medicine's 11,200-square-foot cultivation facility is located just minutes off the Las Vegas strip. Vegetative and mother areas are finished and have been filled with plant materials to prepare for the loading of Agrify Vertical Farming Units (VFUs) in April. 132 version 3.6 VFUs, each with multiple vertical growing levels and individual microclimate controls, are ready to receive plants.
All engineering and construction drawings have been submitted in preparation for final inspections. It is expected that this project will begin delivering both production success fee and recurring SaaS revenue to Agrify in Q3 of 2023.
At 132 VFUs, Nevada Holistic Medicine expects to generate thousands of pounds of flower per year. Some of this VFU-grown cannabis will be distributed as top-shelf flower at their dispensary, Vegas Treehouse in Las Vegas.
"Part of what I as a director would like to focus on is addressing the needs of medical patients," said Nick Rees, head grower and facility manager at Nevada Holistic Medicine. "You will never have a recreational customer disappointed that they got medical quality cannabis, but you will have medical patients disappointed that they can't find medical quality cannabis." With a mission of enriching the lives of those in local communities, the goal is for this medical-grade cannabis to be accessible to locals and visitors; anyone who is in need and can benefit from this amazing plant. This focus on providing real benefits for patients and consumers aligns with the Vegas Treehouse mission of "enriching our local communities through the healing power of cannabis" and "helping people and doing good for our friends, families, and neighbors."
In addition to selling flower, Nevada Holistic Medicine will offer rooted clones via facility to facility transfer to other commercial nurseries within the state of Nevada, in compliance with Nevada state law. These clones will be available to operations needing new high-demand genetics and those requiring plants to maintain a production schedule due to interruption from clone practices, equipment failure, or disease. With the ability to create precise microclimates in a VFU and capture all data via integrated Agrify Insights cultivation software, Nevada Holistic Medicine will be able to phenohunt and execute side by side testing at scale, creating precise recipes to optimize the health of new genetics. All plants will be virus tested on the day of delivery with Agdia test equipment to ensure clones are HpLVD free.