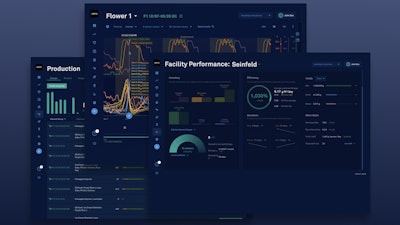 Aroya
AROYA, a division of ADDIUM Inc., today announced a wide release of its integration with the controller OpenSprinkler, empowering growers with data to guide their crop steering decisions while simultaneously simplifying one more aspect of cannabis cultivation.
"Enabling integrations with third-party systems solidifies AROYA's unrivaled position as the cannabis industry's most intuitive platform, providing growers with the control, flexibility, visibility, and data-driven insights to manage every stage of cultivation," said AROYA President, Scott Campbell.
Until now, implementing controllers for drip irrigation gave growers some control over their irrigation strategy, but with limitations. Now, growers have the ability to gain new insights, viewing their irrigation data in the same software as their climate and substrate data. It's estimated that roughly 30-40% of cultivators currently use OpenSprinkler for their drip irrigation.
"It made sense for us to take just one more small step, not to become a controls company, but to offer an integration with a controlled system that people commonly use in the cannabis industry. Now cultivators can have much better control and take those insights that they get from looking at their data and put it right to what changes they're going to make, which is their irrigation strategy, without having to leave the platform," says Campbell.
The new integration also eliminates the need to log into additional programs or tab across separate spreadsheets like those in Excel, a pain point that this new feature solves, reducing complexity while bringing more visibility to commercial cultivation.
"AROYA is a platform for data collection and aggregation, and simply the knowledge that a crop is being watered according to a certain schedule, is a critical piece of data that we didn't have in the platform up to this point," added Campbell.
With this integration, it's easier than ever to manage more complex grows, even across multiple rooms and facilities, allowing cultivators to keep tabs and learn from their irrigation data like Electrical Conductivity (EC), water activity, and moisture content, all from one place. The streamlining of software and data will help growers of all canopy sizes, but the biggest gains are those businesses growing in multiple facilities and states.
"It's uncommon to find a high level of consistency across an MSO (multi-state operator), for example, and this is a tool that can help them to standardize," Campbell says.
"Designed with growers in mind and tested in commercial cultivation environments, AROYA Irrigation Control combines the best of both worlds, providing real-time readings of irrigation details via data visualizations," added Campbell. "Integrating OpenSprinkler with our cultivation and production platform provides a comprehensive view of all grow-related data from a single screen. This both streamlines operations and enhances data-driven decision making, increasing efficiency and scalability."
Users can easily replicate and attach schedules to harvest groups and recipes, simplifying how they manage a maze of multiple rooms and different zones within a single room. Operators can customize irrigation start times with volumes and durations based on media and substrate size, bringing even more consistency to operations via perfectly scheduled P1s and P2s.
"Simply put, we empower growers of all sizes with intelligent automation to not only survive, but also thrive in increasingly competitive markets," Campbell concluded.
The integration joins others among their growing suite of solutions for cultivators, like Integrated Pest Management (IPM) and Metrc compliance. AROYA's software is sensor-agnostic and can be developed to work with any combination of genetics, controls, nutrients, substrate, lights, ERP, and compliance software.
Customers who have AROYA subscriptions will get access to future integrations and features as new updates are developed and released in the platform.