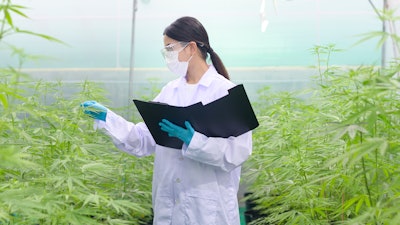 iStock
Willow Industries today launched Willow Scientific, a new tiered suite of microbial consulting services that offers operators a way to address and solve contamination at the source.
Willow Scientific consists of three tiers of stand-alone consulting services, including:
In-person consultation with respect to facility assessments
Microbial management plans
Customized best practices such as good manufacturing practices, standard operating procedures, sanitation standard operating procedures and other solutions to improve overall operational efficiencies and cleanliness.
The new services are an expansion of the microbial support that businesses leasing WillowPure technology currently receive. The offerings are available to all licensed cultivators, including those who don't use WillowPure.
Willow Scientific services include:
Standard: A one-month program, currently included across all Willow lease partnerships. The standard tier includes: an on-site visit to investigate and identify contamination sources; environmental testing of facility as well as cultivation inputs (i.e. air, water, soil, etc.); a one-time assessment toolkit, including swabs, settle plates, etc.; and a comprehensive assessment outlining contamination sources and recommended actions, along with an in-depth review of the assessment with Willow's science team.
Premium: A four-month program, which includes all standard services as well as staff education on the fundamentals of microbial challenges; staff training on aseptic techniques and sampling; additional instruction to identify, track and prevent contamination in-house; a monthly assessment toolkit; general standard operating procedures (SOPs) and guidelines outlined in a comprehensive list; collaboration with labs to understand their testing methods and results; and monthly reviews of assessment results and certifications of analysis (COAs).
Pro+: A 10-month program, which includes all standard and premium services as well as: customized development of in-house surveillance and quality management program; customized training materials and best practices; customized practices including good manufacturing practice (GMP) SOPs and sanitation standard operating procedures (SSOPs); customized plans for microbial prevention, management, and corrective actions; quarterly on-site audits to track and manage GMP certification benchmarks; and overall GMP preparation including audit simulations.
For more information, visit willowindustries.com/consulting-services/.