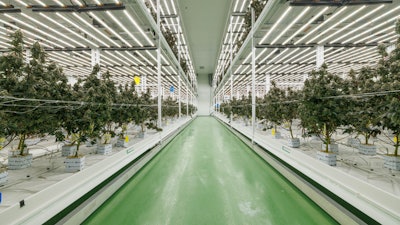 Fluence
Fluence announced today its success in supporting Trichome, an Israeli facility growing world-class medicinal cannabis, to prove the concept of two-tiered vertical farming in an urban center.
To successfully launch an urban vertical growing facility in Qiryat Gat, Israel, Trichome needed to collaborate with the right solution partners to maximize space while optimizing quality and automation at every step of the process. To appropriately design for the compact, intricate indoor environment and complexities associated with tiered growing, Trichome turned to Fluence for its market-leading LED lighting solutions, local service capabilities through Fluence's Israeli distribution partner, REMY, and in-house horticultural experts to assist with planning, installing and managing the deployment of integrated lighting technology.
"By partnering with Fluence, we were not reinventing the wheel but choosing the best wheels in the market," said Tony Levi, co-founder and CEO of Trichome. "Standardization, longevity and optimization are critical factors in producing high-quality cannabis flowers. The team of experts at Fluence helped us accomplish all of those goals in an urban farm within city limits."
Trichome installed Fluence lighting throughout its fully standardized medicinal cannabis facility. To overcome the obstacles presented by a reduction in space between crops and the artificial lights in vertical farms, Fluence worked closely with REMY, Levi and the Trichome team to understand the facility's constraints. Ultimately, Fluence designed a bespoke system comprising its SPYDR 2i, SPYDR 2x and RAZR Modular series for Trichome. Trichome has completed 17 full crop growing cycles, all with greater than expected results using Fluence lighting—including above average yields, higher than expected terpene levels and high cannabinoid content.
"We are thrilled by the response of our plants to the Fluence LED lighting," said Steve Abboud, head grower at Trichome. "Our cannabis crops are taking in the light from Fluence fixtures and expressing its quality through their flowering. We have been able to standardize light intensity, harness control over our cultivation methods and achieve crop uniformity because of Fluence LEDs."
"Working with Trichome on lighting solutions has been an exciting and ambitious process where both parties learned a tremendous amount," said Jörg Meyer-Brenken, lead account manager, cannabis EMEA at Fluence. "The product Trichome supplies is outstanding, but the feedback from the market and patients makes me even prouder. Trichome has been able to set a new bar for urban farming."
​​Fluence LED lighting solutions are available for purchase by licensed cultivators in territories in which the cultivation of cannabis is legal.